Learn more by reading below and following the appropriate links
---
View the ONLINE GUIDE – Acting against Sexual Harassment in Archaeology
---
Understanding sexual harassment in archaeology: a guide for archaeologists – this short course has been designed as an introduction to tackling sexual harassment in the workplace, tailored specifically to those employed or otherwise engaged in the archaeology sector. Produced by BAJR RESPECT, with support from CIfA and Prospect Archaeologists Branch, it brings together current legislation and recent sector research, to provide an online CPD resource accompanying the RESPECT Acting against harassment in archaeology guide (PDF). It focuses on the key issues surrounding sexual harassment in the workplace, although it is not intended to replace union or legal advice: a downloadable resource list which signposts to other organisations and further support is also included. Duration: 20-25 minutes (free access)
 The link here is available to all with the option to request a completion certificate at the end.  (RESPECT is a voluntary initiative and there may be a slight delay in receiving certificate. )
 CIFA members can access a separate link via there CIFA member log in which will automatically generate a CPD certificate on completion. Link here: e-Learning | Chartered Institute for Archaeologists
---
My Story, My Terms- A workbook for survivors. The goal of this workbook is to guide individuals through the healing power of storytelling and help those who are considering sharing their stories make an informed decision about doing so.
MyStoryMyTerms_Final.pdf (metoomvmt.org)
---
BAJR RESPECT SURVEY – Infographic 
---
---
Session recording of the CIFA Session that Respect and CIFA E&D organised 
CIfA2021 – #MeToo #TimesUp #Archaeology: influencing positive change – YouTube
---
Join either the Womens or LGBT+ Facebook groups
---
Get in touch to buy badges, Posters and copies of the guide for site huts and projects
---
Download the template RESPECT powerpoint pptx page to add to your presentation (thanks Laura)
---
View the RESPECT presentation on bullying and sexual harassment (CIfA workshop)
---
Read the Report on Bullying and Sexual Harassment: a workplace survey by BAJR Respect
---
Get help with Whistleblowing and Bullying from Protect Advice and read the BAJR Guide to Whistleblowing
---
Read the Resource list for those experiencing online bullying
---
Listen to Kayt Hawkins discuss the RESPECT campaign on this UCL – Archaeology South-East podcast. 
---
2 minute video about sexism – commissioned by the Council of Europe – STOP SEXISM
---
Emma Appleton's 100 ways to make a transfomative building site? The 100 points are brilliant :
https://t.co/kKgUOgDzTk
The TedX talk is really informative and thought provoking. We need an environment where you can
Speak your truth
. Not to fit in, but to be who you are. :
https://t.co/KVkPaxQkvh
---
Acknowledging issues, providing a platform.
The recognition with which many of us watched the emergence of the #metoo movement is testament to the lived experiences of women. There was no surprise when reading the accounts, instead there was a renewed anger.. Archaeology was in no way exempt from self-reflection and women working in all areas of heritage shared accounts of their horrendous experiences within their professions and highlighting the failure of their profession to tackle the issue head-on.
Launching the campaign
It was against this backdrop that the BAJR RESPECT campaign was launched dealing with sexual harassment, bullying and discrimination, originating 5 years earlier as a direct response to specific incidents of sexual abuse and rape of women working in the field and no way to offer anything other than support.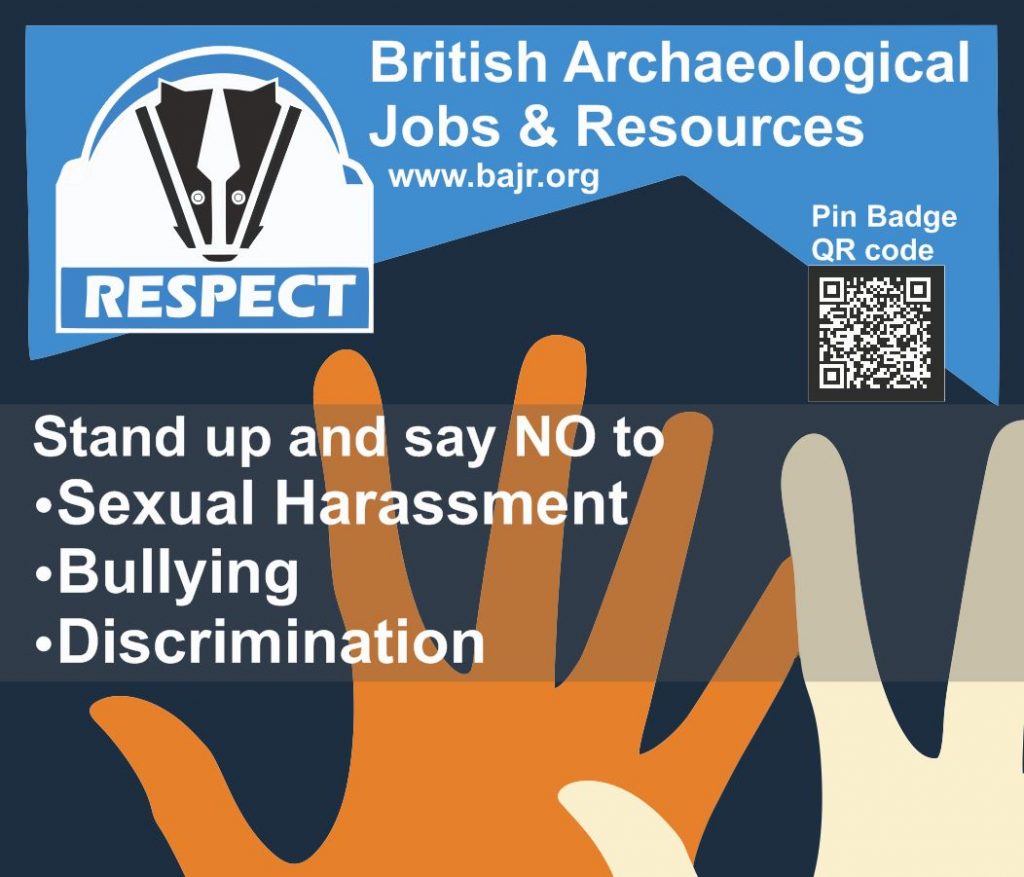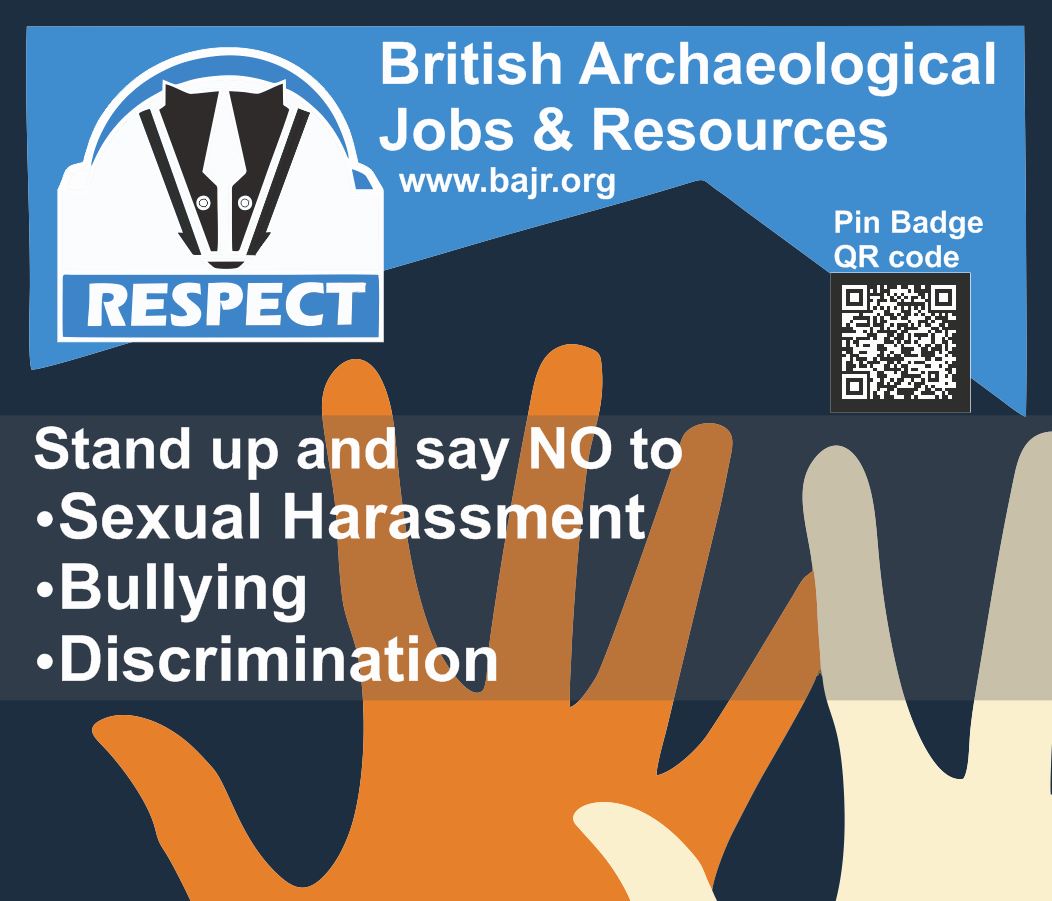 The guide stresses that archaeology is a no more dangerous or predatory profession than others, but there are certain elements within how archaeological fieldwork is structured which can place individuals at increased risk of sexual harassment and bullying. Field schools and even excavations conducted away from the company base can form into their own small microcosms, and usual boundaries of behaviour may become blurred. In these situations, inappropriate behaviour risks becoming normalised and excused as group banter.
No advice on how to protect from attack is given in this document as it is not the responsibility of the victim but rather the perpetrator not to carry out the harassment, assault or attack in the first place! The BAJR RESPECT guide is intended to be practical rather than aspirational – offering real solutions to organisations to minimise the risks to students, staff and volunteers.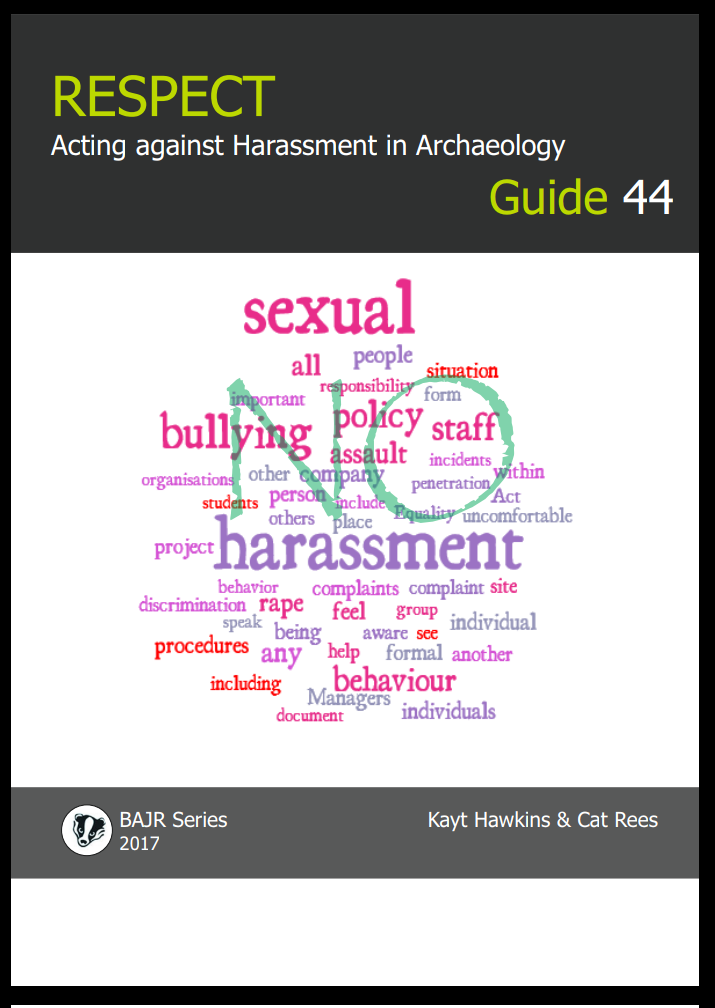 Building on previous work
This campaign is not the first to raise awareness of sexism within the profession and is building on a decades long fight and the challenges, including sexual harassment and abuse, which women face. The foundations of RESPECT have been laid by others, particularly the work of British Women Archaeologists (Dr Anne Teather & Dr Rachel Pope).
Creating RESPECT
The main difficulty faced by the RESPECT campaign, was how to approach this difficult subject so  dialogue could be opened that focused upon specific issues within the profession which make women more vulnerable to abuse and then breaking down of barriers which prevent them from coming forward. The guide was the first step towards this, but RESPECT is an ongoing and evolving campaign and the guide is regularly updated. To date this has included additions from LGTB+ and dis/Abled contributors and further updates on Intimate Partner Abuse and tackling of the use of technology, in particular smart phones, are forthcoming.
Continued dialogue of RESPECT has also been generated through critique as well such as the badges where some archaeologists privately identified individuals who had bullied or harassed them in the past but were hiding behind the badge as a shield –  however, the badges are scant protection, when people are challenged for wearing it, if involved in unacceptable behaviour.
We should feel confident to say to a colleague if we feel uncomfortable in a work environment and conversations are important to prevent problems developing and normalising discussions on acceptable behaviour.
Facebook Groups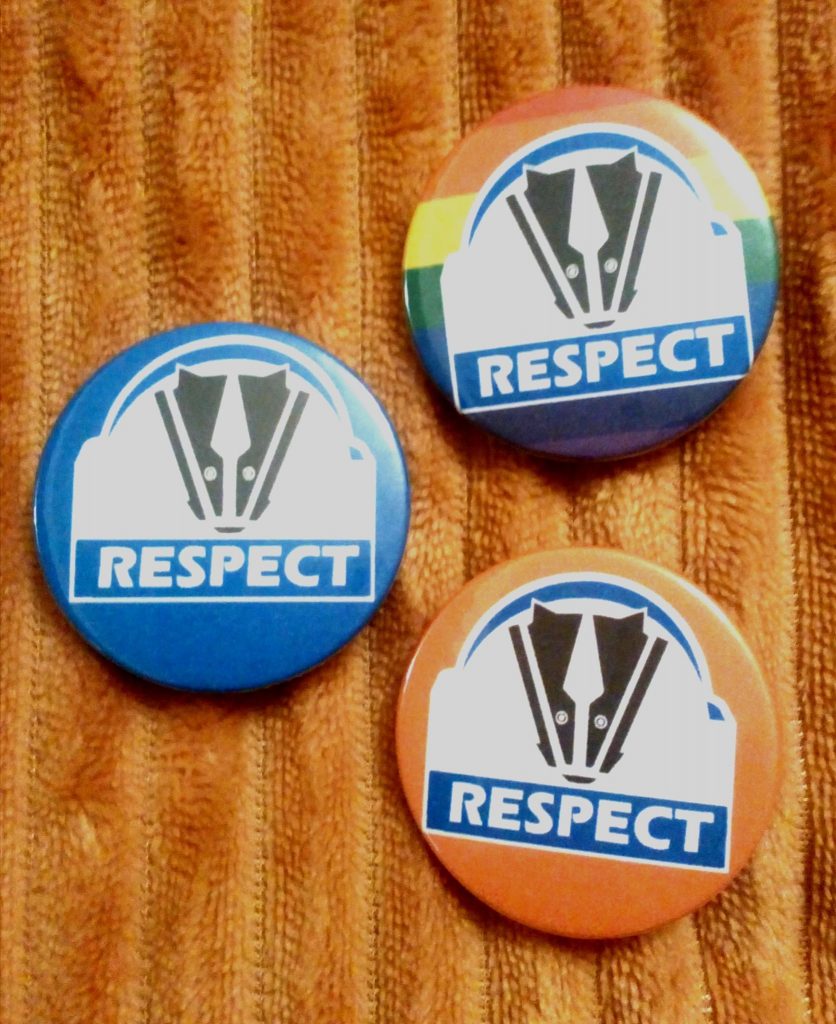 Discussion and collaboration are key to achieving the aims of the RESPECT campaign.  A female only RESPECT Facebook group has been established which has created a safe space with BWA founders as co-moderators.
An LGTB+ only RESPECT forum is to be launched in the near future.  (to join the LGBT Facebook group and you identify as LGBT+ then as it's a secret group you will need to send a friend request to the wonderful admins Michael Dig Outis Smith and Lu Dig who will ask a few quick questions.) 
Contact
To join the Womans Respect Facebook group and yes it is women only, contact Kayt Hawkins or Cat Catherine Rees who will also ask a few quick questions.)
CIfA Equality and Diversity Group can offer further support and can be contacted at groups@archaeologists.net.
Another step forward
RESPECT has generated discussion and proved a focus for groups and individuals who are working towards the same goal including the CIfA Equality & Diversity Group who recently convened a cross sector meeting on the subject. There seems to be a growing momentum and recognition that we need a culture change within the profession.  We can and we will make these changes, and the RESPECT campaign is another step towards this goal.
To this end, we have produced a Site Hut pack, including posters, a printed version of the Guide and button badges ( the cost per pack is £3 to cover costs and postage) If you are interested in getting sets – then please contact David Connolly ( info@bajr.org ) with the  words RESPECT pack in the subject header and the number and address to send them too.  we will send out the packs as well as an invoice.