Based in the Marches between England & Wales, Alison & Hugh Milton, make historic replicas of furniture, hats, leather work, textile tools, baskets, wax candles, and all manner of strange and varied objects.

Hugh works in wood to recreate boxes and treen, furniture and objects from the past.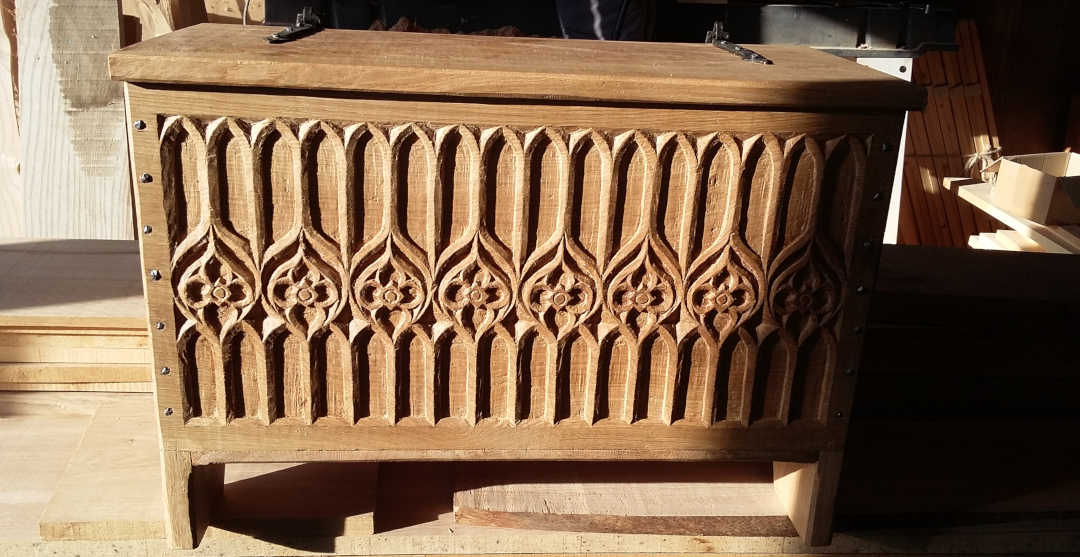 Alison works in wool and leather. With wool she makes historical hats based on examples in museums, images, documents, archaeological reports and effigies.
The leatherwork she makes is based on museum collections, archaeological finds, documents and images.
They work by hand, using traditional methods to produce items for museums and historic sites, but they also make for re-enactors and for the general public. They don't have a shop: sales are either at markets and events or via orders/commissions.
They work by hand, using traditional methods to produce items for museums, re-enactors, private houses, and the general public. It is here that the actual creation of these physical object, using similar tools and materials, allows for an insight into the process of making, and what may look like a mistake or a seemingly mysterious fragment in the archaeological record, is actually a necessary piece for the item to function!
A lot of their work involves replicas of archaeological finds so you could say that they use – in their words – "unnecessarily laborious and difficult techniques to copy dead people's rubbish."
In addition, they provide costumed demonstrations of woodwork, leatherwork, textiles and general living history.
---
So pop along to their website or to their Facebook page, and think about supporting this couple of craft specialists.