From the  27th to 30th May 2022 Dr Murray Cook will be running a free Research and Training Dig at Keir Hill of Dasher near Stirling.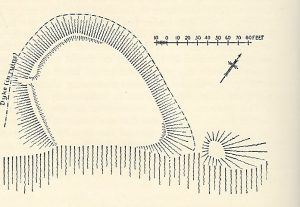 Keir Hill of Dasher (Canmore ID 45348) is a small enclosed site, sitting on the eastern edge of Kippen (NS 6534 9511). It sits on a rocky promontory on the left bank of the Cuthbertson Burn at a height of 33.50 maOD.
It measures internally 41m from ENE to WSW by 30m transversely and is defined partly by a stony bank measuring up to 10m in thickness and 1.20m in height, and partly by the crest of the steep rocky bank of the burn. While the 'keir' placename may have older origins in 'caer', an old Celtic or Gaelic word meaning fort, the formulation 'keir hill of…' is argued by Peter McNiven to be  a 17th/18th century construct. Kippen itself may be Gaelic for stump or block and perhaps refers to the fort.
The fort is located to the south of a key crossing point over the River Forth, which from c 800 to 1100 AD formed the southern frontier of Pictland and then Alba which eventually became modern Scotland. Small scale excavation of the site in 2020 yielded a radiocarbon date that indicated occupation of before c 996-1153 AD. This may relate to a reference to King Kenneth II fortifying the banks of the Forth in order to defend against raiding from Northumberland. Given the shifting strategic position of Kippen the site was never developed so potentially represents a rare if not unique well preserved fortification during this turbulent period.
May 2022 sees a return to site to open a new trench across the boundary ditch to recover more dating material as well as sampling of the field to the immediate west where local tradition has it there is an Early Medieval  church.
---
The dig is open to all and basic training will be provided in excavation and recording techniques. For more information or to book a place contact Dr Murray Cook cook@stirling.gov.uk
Header Image: 2020 season's excavation