Rufford Abbey is now a popular country park, visited every year by hundreds of thousands of people and a pink granite column-drum was previously thought to be a piece of landscape art, but  now been identified as part of a portico constructed of huge pink granite columns in the grounds of a villa in Lanuvium belonging to Roman Emperor Antoninus Pius (successor to the Emperor Hadrian) who ruled from 138AD to 161AD.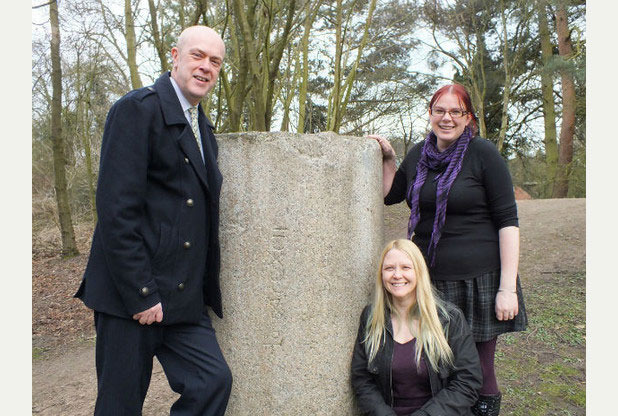 Emily and Lorraine spent a successful summer in 2014 at Rufford excavating for medieval remains (read more on their Facebook page: https://www.facebook.com/communityarchaeology ). A chance comment by a visiting conservation specialist as they explored the park's picturesque public garden led to their latest discovery.
The column is around five foot tall and over time has become covered in lichen, but on closer inspection the pair found a 'shipping mark' that enabled them to determine that it had been excavated in Lanuvium and sent back to his estate by Lord Savile.
An archaeologist antiquarian
John Savile Lumley, subsequently Lord John Savile, was born on 6 January 1818, the second son of the 8th Earl of Scarborough.  From the age of 24, his diplomatic career spanned 47 years, representing British interests across the globe. His final appointment before retiring was British Minister at Rome in August 1883: a position he held for four years.
During this period he  indulged in his passion for archaeology, with excavations on the northern shore of Lake Nemi (read this excellent website about these excavations), on land belonging to Prince Orsini and at Lanuvium which he owned, with many items shipped back to the UK and donated to various museums including the Castle Museum in Nottingham.
Emily explained of the discovery: "We had viewed the place as a public sculpture park for a long time, but recently we have started to look at the place as the home of an enthusiastic archaeologist. From this perspective a number of pieces that we thought were pure ornament are looking very much like artefacts brought back from Rome.
"We have plenty of information here about the excavations at Nemi but very little at all about those at Lanuvium. [However] we found reference to a portico constructed of massive pink granite columns which was in the environs of the villa of Antoninus Pius. These items all clearly formed part of Lord Savile's private collection."
Piecing together the clues
The column is now set fast in concrete but was once up for auction in 1938 when the Saviles sold Rufford Abbey and its contents were auctioned. A photograph of the auction lots uncovered by county council historian Paul Norton shows the column with a massive bronze bust, possibly of the goddess Juno, perched on top of it.
Lord Savile may have found a damaged marble bust of the goddess at Lanuvium, and the bust at Rufford was a replica made for the Rufford gardens. In the end, the Rufford replica bust was sold at the auction, but the pink granite column remained – where it is still situated today.
A pivitol point in the story of archaeology
From documents he wrote at the time – kept on file by Nottinghamshire County Council – Lord Savile is a passionate and evocative writer who is clearly  knowledgeable and fascinated by archaeology.
He was excavating at the same time as some of the great names in archaeology: Heinrich Schliemann, Arthur Evans, Flinders Petrie and Augustus Pitt-Rivers. He and his contemporaries went on to influence and inspire the next generation of archaeologists, who were more scientific in their approaches.
offer a range of opportunities to explore local heritage. and discover, interpret and protect your past in Nottinghamshire.