Between the 18th November 2013 and 13th January 2014, the Surrey County Archaeological Unit (SCAU) conducted an archaeological strip, map and sample excavation on the site of the planned Cranmere School at Arran Way, Esher. Finds and features spanning a date range from the Upper Palaeolithic to the post-medieval period were recorded. The prominent period of activity is centred on the Bronze Age, with a series of boundary or enclosure ditches of mid to late Bronze Age dominating the excavated area. The discovery of a Late Bronze Age metalworker's hoard contained within an in-situ pot is of regional importance. The discovery of a series of postholes, also dated to the Bronze Age may be evidence of a domestic roundhouse or possibly an open-fronted workshop. Evidence of Saxon occupation and post-medieval horticultural activity was also discovered.
From the stratigraphic report
Close to the north edge of Area 1 the truncated remains of a later Bronze Age shouldered jar (220) were revealed within the raised area 215. The jar, not apparently within a feature, contained 32 fragments of plano-convex, copper 'bun' ingots. The largest and uppermost ingot had been displaced, probably during the machining. Its greater size and position in the top of the jar suggest that all the ingots deposited may have remained in situ despite truncation in antiquity. The ingot fragments weighed 5805g in total. Given their size and quantity, it seems likely that they derive from more than one ingot. Some refitting fragments indicate that there were originally at least two ingots. Such hoards, sometimes referred to as a smelters' or metalworkers' hoards, are characteristic of the Late Bronze Age period.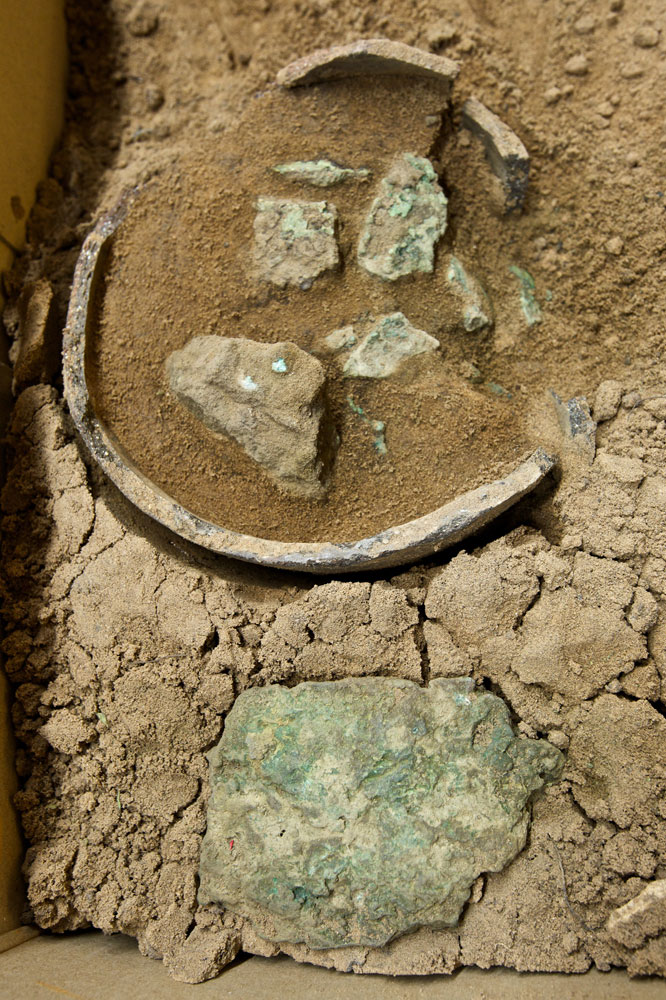 From the pottery report
Later Bronze Age pottery includes up to 28 coarse shouldered jars, including 13 with finger-impressed or slashed rims and/or shoulders. Another nine have burnished finishes, as do five cup and bowl forms.
One of the burnished jars, with a distinct shoulder carination had been the receptacle for the copper alloy ingots in context 220.
You can see the hoard in the foyer of the Surrey History Centre.