News roundup for the week ending 9th January 2022
Welcome to the new year, and a load of stories  – click the links to read the full story.
---
DIG It 2021 quiz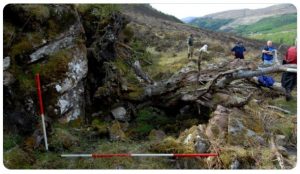 Last year, a community archaeology project run by Ullapool Museum discovered a "rare", "significant" and "phenomenal" site in the Highlands – can you guess what it is based on this photograph?

Dig into the answer and other 2021 discoveries: https://bit.ly/2021Discoveries
---
Hungry badger may have uncovered Roman coins in Spanish cave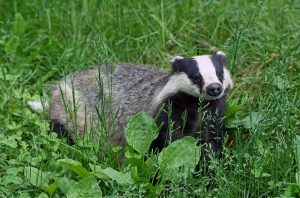 A trove of 209 Roman coins in a cave in northern Spain – hailed by researchers as an "exceptional find" – is believed to have been uncovered by a badger desperately foraging for food.
The coins, dating from between the third and fifth century AD, were spotted in a cave in the municipality of Grado in the northern region of Asturias. They were found mere feet from the den of a badger, months after Storm Filomena dumped heavy snow across swaths of the country. Researchers believe that the snow forced the badger to step up its foraging efforts, leaving it prodding at a small crack near its den in hopes of uncovering berries or worms.
Hungry badger may have uncovered Roman coins in Spanish cave | Spain | The Guardian
---
The Great British Dig: History in Your Garden
Hugh Dennis and a team of expert archaeologists excavate back gardens around Britain, in an attempt to uncover the lost history buried beneath our lawns and flower beds
The Great British Dig: History in Your Garden – C4:  LINK FOR ALL EPISODES
---
Digging For Britain 
BBC Two – Digging for Britain  LINK for ALL Episodes
---
A decade of exciting finds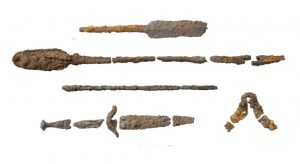 To celebrate 10 years since Cotswolds opened the Milton Keynes (MK) office, they picked five favourite finds made by MK archaeologists based there during those 10 years.
A near complete Bronze Age Collared Urn

Iron Age

 metalwork hoard
Roman figurine of Venus
Roman nummus of Constantine I
Fragments of fired clay
---
Trinity Burial Ground in Hull
If you missed the live interview between Kofi Smiles and Lauren McIntyre from Oxford Archaeology  about Trinity Burial Ground in Hull on BBC Humberside (as well as on Digging for Britain) then listen up!
Kofi Smiles – Secrets of Hull's hidden past revealed in A63 dig – BBC Sounds  
---
Headland RSK shortlisted for two awards.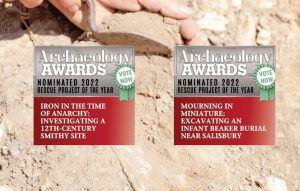 This year, Headland Archaeology has been shortlisted in the "Rescue Project of the Year" category for two of its projects based in Wiltshire and Cambridgeshire. The first of Headland's projects to be nominated is the "Mourning in miniature" excavation near Salisbury in 2018 and 2019. The excavations revealed the remains of early Bronze Age Beaker burials, including one of an infant. The second Headland project  is titled "Iron in the time of Anarchy" and was based at a site near Newmarket in Cambridgeshire where the team discovered the remains of a medieval smithy dated  to the 12th century, making it of particular historic interest.
Vote now open: Headland Archaeology shortlisted at Current Archaeology Awards 
---
Current Archaeology Awards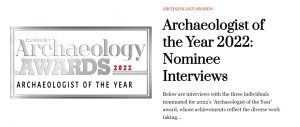 The Current Archaeology Awards ceremony will be held on 25 February, when the winners will be announced. Make sure you register your choice before voting closes on 7 February.
Archaeology Awards  – Current Archaeology
---
Richard Osgood: Drawing for Britain 

here is the @MOLArchaeology  Iron Age coin from the banks of the Thames in London done by MOD archaeologist Richard Osgood
See his lovely pen ink and watercolours here:
#d4bdrawing – / Twitter  
---
New discoveries at Pen Dinas Iron Age hillfort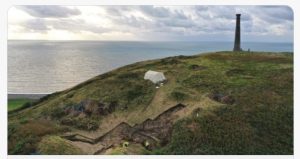 Dyfed Archaeological Trust led a community-based archaeology project with 60 volunteers at the hillfort last autumn, funded by Cadw, the Welsh Government's historic environment service. Current Archaeology reports on their findings
New discoveries at Pen Dinas Iron Age hillfort | The Past (the-past.com)
---
Archaeologists working on London's super sewer try to unravel the medieval mystery of the booted man in the mud  –  Blast from the past – 2018  ( BC   before Covid)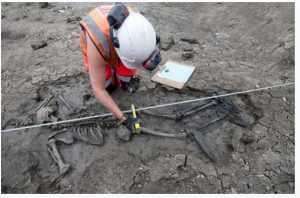 Archaeologists working on London's super sewer have revealed some fascinating insights into the life of a man who likely worked on the River Thames hundreds of years ago, after finding his skeleton on the foreshore in 2018
The male skeleton was found lying face-down, buried deep in mud and wearing knee-high leather boots at Tideway's Chambers Wharf site in Bermondsey, where work is currently underway to build London's new super sewer to stop sewage pollution in the River Thames.
Tideway | Archaeologists working on London's super sewer try to unravel the medieval mystery of the booted man in the mud
---
Letter to a young archaeologist, January 2022