Campaigners against the plans around Oswestry's Iron Age hillfort handed over a copy of the petition to Shirehall bosses on Friday.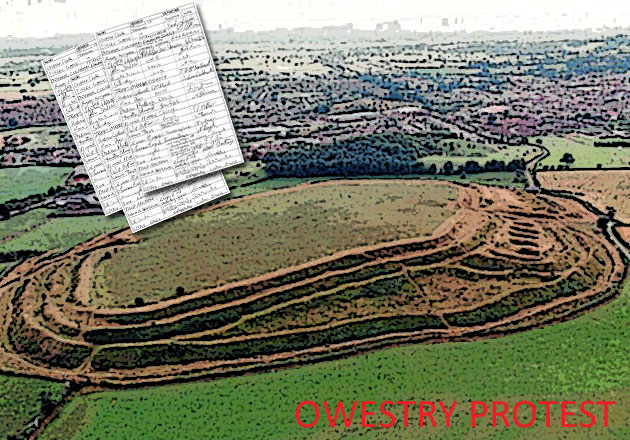 Ahead of the handover, the campaigners said they thought up to 4,000 people would back their battle against proposals to develop three parcels of land around the landmark.
But after tallying up all the signatories, the campaigners say total signatures amounted to 5,620 with 1,730 collected from around Oswestry town centre.
John Waine, from the Hands Off Old Oswestry Hillfort campaign, said he was delighted with the support being shown.
"Since the campaign began on August 1, the organisers have been overwhelmed with support from across Oswestry and the county, as well as nationally and internationally with people from over 20 countries such as the United States, South Africa and Egypt declaring their firm objections to these proposals."
Mr Waine said The British Archaeological Trust, known as Rescue, had also added its voice to the campaign.
Read more here: http://www.shropshirestar.com/news/2013/08/29/thousands-criticise-plan-for-oswestrys-ancient-site/
---
For Archaeology News – Archaeology Research – Archaeology Press Releases
---