Recently I purchased the surprisingly affordable but powerful Juniper Systems Geode sub-meter GNSS solution. With the Geode, I can easily collect real-time, sub-meter GNSS data without the huge price tag or complexity of other precision receivers, on a wide variety of operating platforms like Windows, Windows Mobile, and Android OS.
The Juniper Systems Geode – so simple a child can use it (as proven in the field).
The story of my deciding to purchase this device, instead of the other machines available, which I have used before (i.e. total station; DifGPS), starts with the irreversible breakdown of my old total station, which has been my constant and reliable companion for many happy years. Following this lamentable and unexpected loss, I was forced to seek alternative ways to fulfill my survey obligations on forthcoming archaeological projects, with premise of being able to locate features and sites on two survey projects, both in Northern Scotland.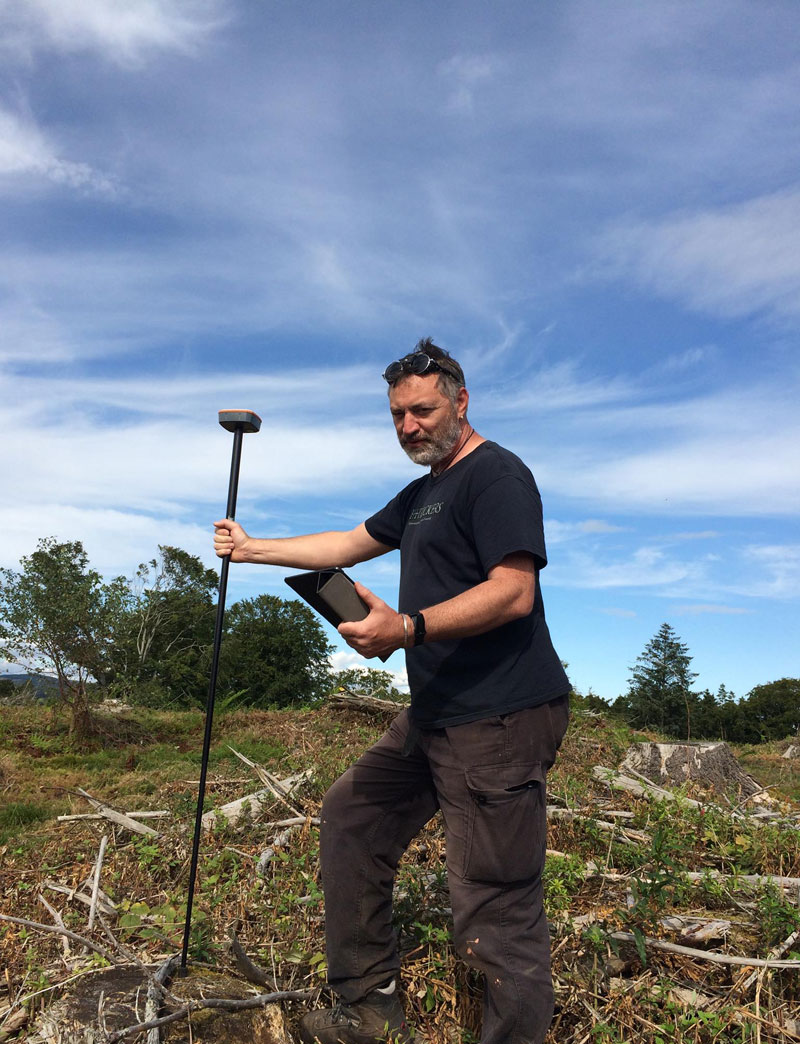 As time was running out, I naturally first pursued the hiring equipment option, starting by comparing the average weekly rates for DifGPS. These ranged from £350 – £700 per week, (the cheaper worked from a Vodaphone signal, the top end was with a base station).  I was in a quandary – first off, there was a problem with phone coverage at the locations I was going to – as often associated with upland surveys – so it was going to have to be two separate hires of the full base station and rover kit (one for 2 weeks – and the next for 1 week), though my use was going to be restricted to a few days on each.  I was looking at the sum of around £2100 just to start with, before even processing the data, and locating the features and turning them into shp files for the GIS survey. Secondly, I considered the required level of accuracy I needed, and it occurred to me that sub cm accuracy for locating project zones and monument features was perhaps not as important in this instance.
Levels of accuracy
This of course raises an important issue concerning required levels of accuracy in archaeological surveys, and based on my experience over the years I have the following three grade system:
1) the 4m radius dot (achievable by most mobile phones now, and reasonably useful in relocating sites already logged into a mobile mapping system – most of us can find sites at this resolution – though the site could be up to 8m from where we are standing in the field.);
2) the sub cm accuracy; (using a boxful of tech, with RTK collection of data, this systems is best suited to collecting data where either there is a genuine demand for this precision or where you already own one of these, collecting height data for example over large areas is perfect for this level);
3) the sub metre system, such as routinely achieved by the likes of GEODE (under normal operating conditions I was achieving 25-30cm accuracy – and even 18cm if I waited at certain points – in reality, this sort of accuracy is perfect for quickly locating trees, monument outlines and linear features and even locating trenches in remote locations; while its light weight and no reliance on phone signals makes it perfect for use in less accessible environments where carrying lots of equipment is not an option).
Logging data in all weathers and locations

The software I matched the GEODE with was a simple but powerful app (for android) called Mapit – which is GIS app designed to support GPS data collection, such as associated with mapping sites and monuments etc. Mapit makes GIS data collection or field survey process faster and more efficient – with an inbuilt form/data field creation tool and a swift option to work with existing files or create your own, point/line/polygon shapes.
Following the field collection, the data can be organised into layers and exported to number of common GIS formats, such as Esri shapefiles, CSV, KML, GeoJSON, ArcGIS JSON, DXF, GPX and your data can be processed using Desktop GIS software, such as ArcGIS, ArcGIS Online or qGIS.
Working with the Juniper Systems Geode – enabled me to capture a variety of data, organize it, save it to the cloud and pick it up at the office. There is no doubt in my mind that using this system is greatly cost and time efficient and indispensable in locating trenches in far flung locations, mapping sites and monuments to sub-meter accuracy and collecting form data regarding trench numbers, site types etc. It is also incredibly simple to set up and use, unlike most other available technology. But no, it won't be much good for doing topographic survey – even with post processing.
Finally, it is number crunching time– I bought my unit at £1764 (inc. VAT), though various configurations will differ. Purchasing this affordable piece of equipment and associated software, instead of hiring sub cm DfGPS, has already saved me a lot of money and I am equally impressed with the versatility and simplicity of the system.  This is not to say I will never use a full sub-cm system again, but I will no longer have to use 'a sledgehammer to crack nuts' again, as now I have the option to use appropriate technology and accuracy to suit the particular requirements of each project.
In the end I have used it for "drawing" monuments in the field, locating trenches in remote locations and logging detecting finds, quickly and accurately.   It fits in my pocket or on a monopod staff and with bluetooth connection or usb – I choose how I use it.  Do I like it?   After full field testing – I certainly do!
For more information and technical details, please refer to the following link:
http://www.junipersys.com/Juniper-Systems-Rugged-Handheld-Computers/products/Geode-Sub-Meter-GPS-Receiver
For UK – contact :
Andy Cray   |  Juniper Systems
Business Development Manager
e: andy.cray@junipersys.com
t: +44 (0)1527 870773  | m: +44 (0)7557 527574
Info:
Juniper Systems' new Geode rugged sub-meter GNSS (Global Navigation Satellite System) receiver collects real-time professional-grade data but is intuitive enough for novices. Designed for versatility, the Geode features one-button simplicity and can be paired with any of windows rugged handhelds as well as a wide range of Android devices.
The Geode features a small, compact design and can be carried conveniently by hand or in a pack or mounted on a pole, depending on specific user requirements. Like other Juniper Systems' products, the Geode is built to Juniper Rugged standards and IP68-rated protection against dust and water for reliable performance in harsh environments. The receiver features an Overtime Technology battery for all-day power and a wide operating temperature range (very low and high), even conserving power in low temperatures.
article edited by H. Kdolska