Summer 2014 and the three year European project 'BOAT 1550 BC' has just closed.  When planning began for this, Prehistory has hardly mentioned in the English school curriculum but from September, schools are now required to teach the Stone Age through to the Iron Age to children at Key Stage 2 (7 to 11 year olds).  So now teachers are looking out for all things prehistoric!
Well, the Canterbury Archaeological Trust can help with that  as they have created twelve, identical BOAT KITs lodged with the CAT BOX collections for loan to Kent schools; in accordance with  the project aims, sets of kits are also held in Northern France and Flanders, for use with schools there.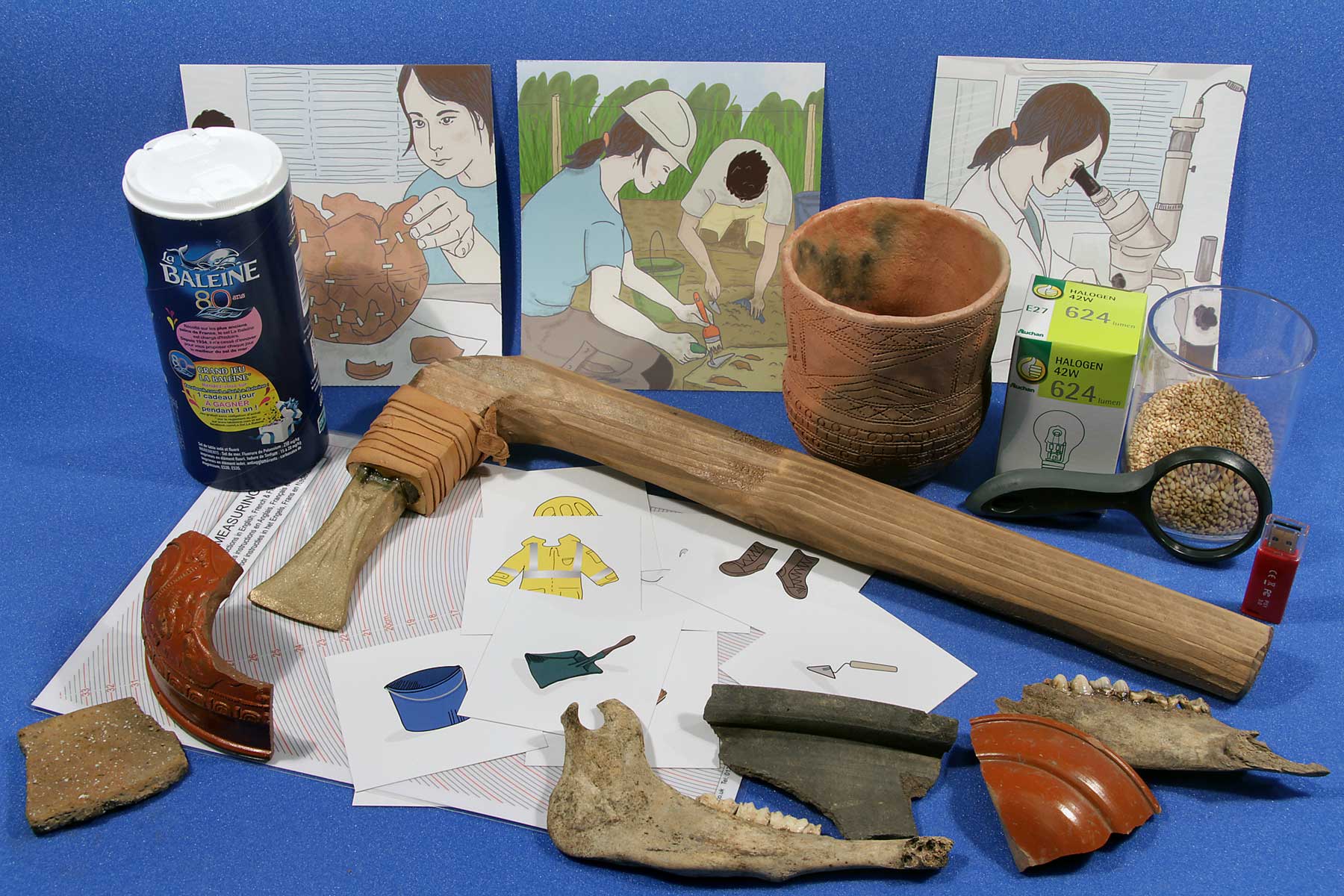 The BOAT KIT contains:
Teaching Guide with a summary of the Dover Boat discovery, a Bronze Age themed scheme of work written by CAT and Canterbury Christ Church University Faculty of Education, examples of Bronze Age sites in France, England and Belgium illustrating similar cultures and a section about Archaeology and 21st century processes used to investigate the past.
USB pen with images, the scheme of work, some short, informative and entertaining videos and a nice animation showing how to build a prehistoric house.
Replica bronze axe, pottery 'Beaker' and bronze dress pin to show pupils the skills our ancestors were capable of 3,500 years ago and the materials available to them.
Catalogue from the 'BOAT 1550 BC' exhibition describing the shared cultural practices between Northern France, Kent and Flanders in the Bronze Age, with some key discoveries illustrated.
Other items for simple activities around the work of archaeologists.
'I am feeling much more positive about teaching Bronze Age and the new curriculum next year and I am now actually trying to work out how I can schedule it for my year group rather than somebody else's!   The resources that you have provided are terrific …'  Key Stage 2 teacher, Maidstone.
You can order a BOAT KIT by going to the CAT BOX page for conditions and loans catalogue.
The CAT box collection can be viewed here:   http://www.canterburytrust.co.uk/learning/resources/catbox-loans-collection/