There is an ongoing conversation amongst archaeologists, infrastructure developers and government that is increasingly recognising a number of issues concerning archaeology in the UK.
The most salient can be seen as an opportunity for many rather than an problem….there are not enough archaeologists in the UK to support the massive infrastructure projects which will be coming online in the next few years – HS2 in England and the A9 development in Scotland.
The University of the Highlands and Islands Archaeology Institute has recognised this and both postgraduate and undergraduate courses can enhance a student's prospects in the jobs market.
The other thread in this conversation involves preparation of students for the real world of commercial archaeology; acknowledging and dealing with the concept ( fair or not )that students do not possess all the practical skills required for the rigours of archaeology in the working environment. Perhaps this is unfair as I well remember the same argument doing the rounds in the early 1980's – which required a period of transition from student life to work life. But I was expected to hit the ground running by my employers with little time to adjust to a new city and a new way of life.
Recognising both the opportunities and the challenges that the rapidly changing commercial archaeology work environment now demands, the University of the Highlands and Islands Archaeology Institute have developed their MSc Archaeological Practice to include a work placement in a real-world environment where students are introduced to the pressures and expectations of a commercial archaeology unit, council based department, educational or museum organisation.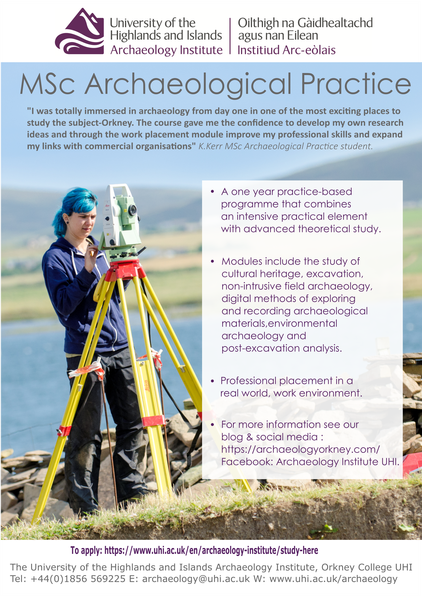 The MSc Archaeological Practice programme for 2016 was a great success for the students, as they were given the opportunity to develop professional and practical skills in a commercial / real-world work environment – organising the excavation of test pits in a collaborative outreach project, lab work for a commercial archaeology company, being the site artefacts officer on a major excavation and even curating in a museum.
Each placement was evaluated and every organisation was requested to return a full report and comment on their students. Every student received great feedback and some employers have asked if there are students available for 2017!
A typical day
But what is it like day to day….what is the MSc Archaeological Practice course like in the field. We asked Sorcha Kirker, who studied with us last year, and on a January day at The Cairns excavation site, she bravely answered questions in a Force 9 gale.

The Institute is affiliated with the Chartered Institute for Archaeologists
To apply for a Masters Degree click on the following links, or contact us for an informal chat on 01856 569225 or email studyarchaeology@uhi.ac.uk