Archaeologists from Heritage Lincolnshire surveying the roof structure of a sixteenth century pub came across 3 broken bottles hanging from a beam after they were tipped off by a former owner.  Covered in dust and cobwebs the hanging bottles made a spooky sight and thoughts turned to why they were put there and why they were broken. Could they be some form of ritual magic?
The Old King's Head, Kirton in Holland, near Boston in Lincolnshire is a former public house. The earlier part of it was built at the end of the sixteenth century and it recieved major alterations in 1661 in Artisan Mannerist Style. It is a solid red brick structure with recent tiles hiding an original thatched roof. It became a domestic residence in the 1960s and in was purchased by Heritage Lincolnshire for restoration.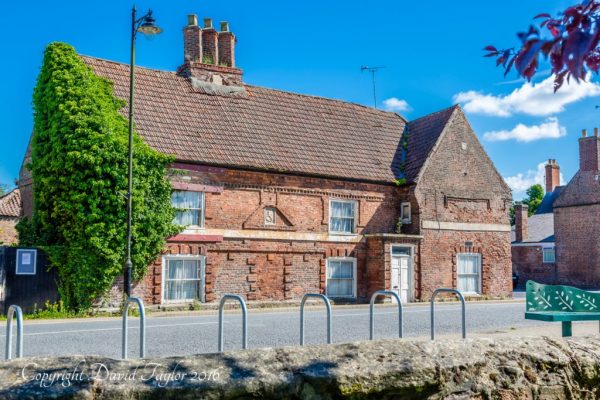 Bring in the Apotropaic specialist!
They invited Brian Hoggard to visit the Old King's Head. Brian is an expert on Apotropaic (Greek for 'turns away evil') symbols and he came to talk to staff about what symbols or items could be present and where we would be likely to find them.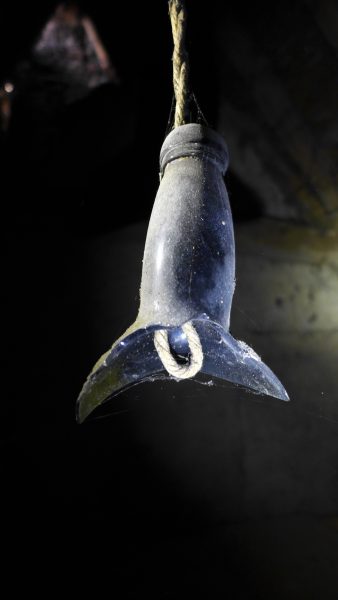 During his visit, Brian explained that in the past people used to protect their buildings (and themselves) from evil spirits and witches using marks and protective items. Containers known as 'witch bottles' were thought to trap evil spells sent by witches and symbols were scratched into timbers around fireplaces, windows and doors to ward off bad spirits. Shoes and sometimes cats were put into voids and chimneys to protect buildings.
A full survey will be carried out to investigate all the marks that look like they have been deliberately made around the building. A brief look by Brian found some lines and initials carved into the beam above the fireplace and he advised the best way of looking for symbols that can often be quite faint.
A more prosaic answer
It is however more likely that the bottles were part of a game that coachmen used to play when the building was still an inn.  Bottles were hung from beams and stones thrown at them as they passed the time when staying overnight. Points were given when a bottle was smashed and the person with the most points won.  These bottles have hung in the roofspace since the last game was finished and the coachmen left the building a final time.
If you'd like to make a donation in support of the Heritage Lincolnshire Campaign to restore the old King's Head then please visit their fundraising page.

source:
https://www.heritagelincolnshire.org/blog/ritual-magic-old-kings-head