The site is being developed by Live Theatre as 'LiveWorks' as part of a £10 million capital development scheme, to provide new commercial office space, a new public park and a children and young people's writing centre.
Fully developed in the mid and late 19th century and then cleared, the site was occupied from the 1930s by garage, a building latterly used as a music venue and then an indoor market before being demolished in recent years.
The plot remained providing a well-known gap in the Quayside frontage – as can be seen in the image above.
Archaeologically, the plot lies within the medieval town walls of Newcastle, in an area which was reclaimed from the River Tyne by 1400. The original north bank of the Tyne lay approximately 60m north of the site, with the riverfront now 25m further south of the site.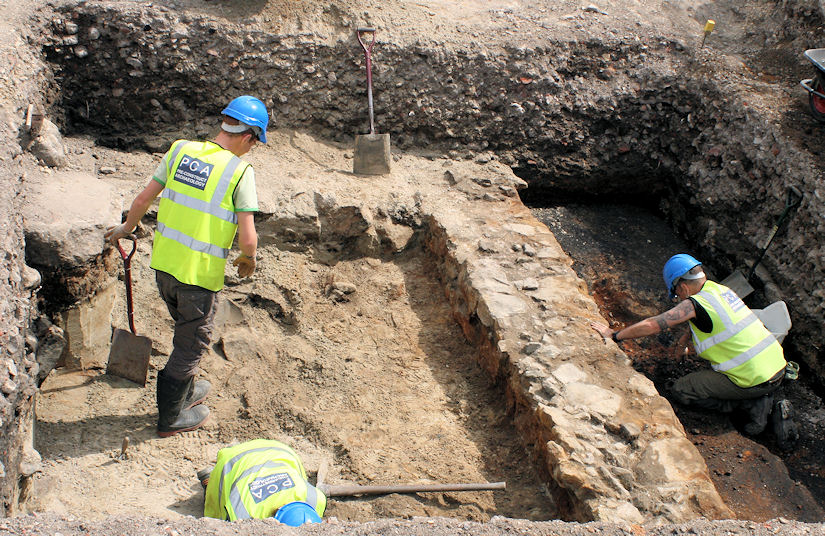 Towards the street frontage PCA's team exposed well-preserved cellars of post-medieval date, these built upon deep medieval ballast – material imported to elevate the ground level as land reclamation took place. In a second area excavation towards the rear of the plot, the team recorded further structural remains, most notably a substantial medieval wall, probably a property boundary constructed as the land was being reclaimed and then retained for many centuries.Deeply stratified deposits either side of the wall provided much artefactual material and evidence of industrial processes of medieval date.
PCA is delighted to have undertaken the archaeological component of the LiveWorks project, a scheme which will undoubtedly transform this part of Newcastle's Quayside.
At a press day in June, held following the granting of planning permission, Jim Beirne, Chief Executive, Live Theatre said: "We are delighted that planners had given approval to LiveWorks scheme and are excited to move the project through the archaeological and then onto the next phase of design and build."

The project is funded by ERDF grant with a specification drawn up by Newcastle City Council.