Pre Construct Archaeology Ltd is kicking off

#

Friday13th

with the launch of a new blog! And what better way to get things started on a superstitious day like this than with a story on ritual mummification?
The last thing one expects to find – or in this instance, have fall on their face – whilst soft-stripping a ceiling is a dusty, old, mummified cat. But that's exactly what happened to one of the demolition crew members at PCA's site on Staines High Street, a row of early-19th century shops. So, what was a possibly 200 year-old cat doing in the ceiling of a shop or floorboards of the house above?
Up until the late-18th century, in Britain and northern Europe, it was customary to hide dried or mummified cats within the walls of one's home to ward off evil spirits and bring good luck to the inhabitants. Concealing objects to serve as magical charms is not a new practice in these Isles, with dried chickens and shoes being another commonly found item in chimneys, under floors, and even in roof spaces.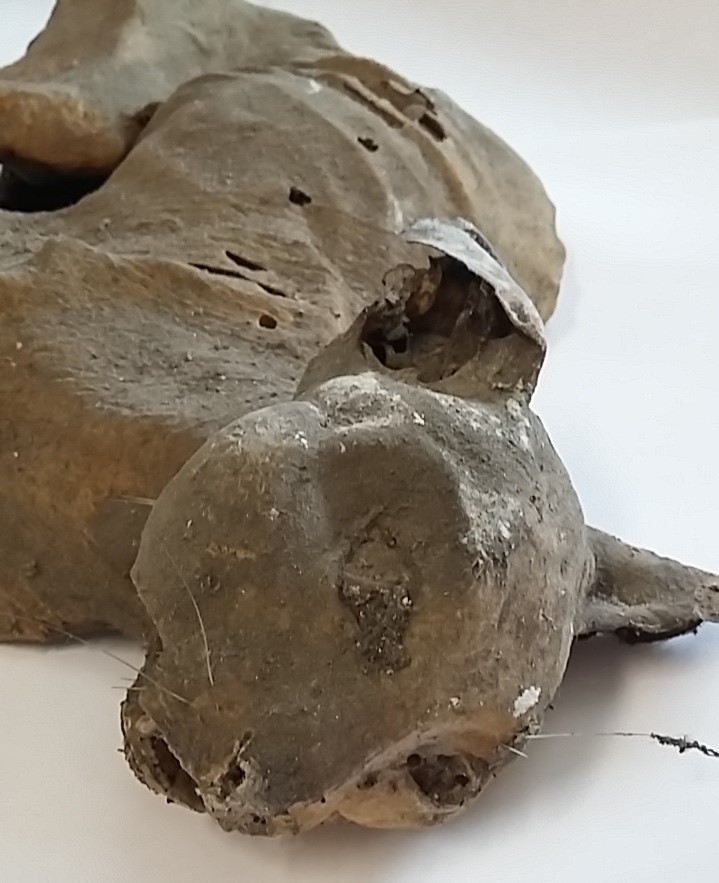 Given the level of preservation, we know for sure it was a male. Based on our research and a thorough examination of the remains by PCA's Animal Bone Specialist, Kevin Rielly, it is unlikely that he simply got trapped underneath the floorboards. Aside from the fact that the owners would have had to put up with at least a week of howling and scratching before the poor animal died, it is likely that he would be in the foetal position had he starved to death. The visibility of the bones and ligaments as well as the lack of fur is the result of decades (if not centuries) of desiccation and decay, which has unfortunately taken away any evidence concerning his state of health at the time. A great amount of detail, however, such as the rolls of its skin and paw pads, are still well preserved and clearly visible.
Its positioning then, not consistent with death by starvation, is of particular interest, which brings us to another theory of why it might have been placed there.
To find out the answer…  click here!  http://pcaarchaeology.blogspot.co.uk/2017/01/here-kitty-kitty-ritual-mummification.html   and scroll on the the last three paragraphs!
Do you still feel lucky?
Follow them here http://pcaarchaeology.blogspot.co.uk/
or Facebook : https://www.facebook.com/PCAarchaeology