MOLA have created two new fieldwork programmes. One specifically for new-to-sector trainees who have no formal qualification or archaeological experience – the aim is to open up non-traditional routes into the sector (e.g. for people who don't want a degree or who are changing career), which it's hoped will contribute to diversifying the profession. The second is a condensed version for Graduates who have familiarity with the concepts, but might not have the commercial experience needed to get a job in the sector.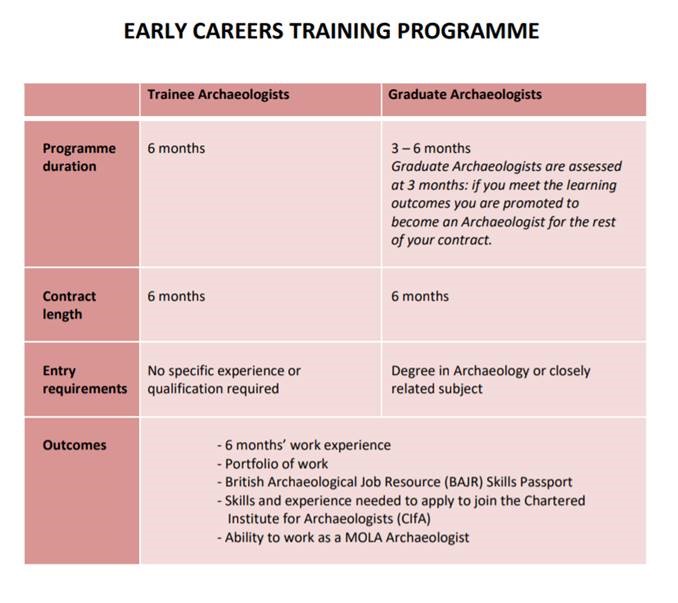 The Graduate scheme is defined as 3-6 months' long because different universities teach different levels of practical fieldwork skills, so each Graduate will have slightly different needs/skill gaps. Every Graduate gets a six month contract but if, at three months, they are able to meet all the Learning Outcomes they 'graduate' and become Archaeologists with the appropriate salary increase. If they are not ready, they continue on the programme for up to another 3 months, with continued, tailored support and regular reassessment. This means ensuring only competent people pass the scheme while also rewarding those who are ready to progress. It also ensures they all receive six months' commercial experience, regardless of when they finish the training – often a per-requisite for many entry positions.
Approved National Occupational Standards 
Both schemes have learning outcomes which map to the National Occupational Standards for Archaeological Practice, and have been approved by CIfA. We also want to use the opportunity to really help them be as employable as possible (hence the use of BAJR Skills Passports as a way to document their newfound knowledge), and will be offering workshops on topics like CV writing and Excel skills as well as helping them through the CIfA application process.  The intention is to offer as many people as possible a job at MOLA after the training, though as ever, it will be dependent on work levels at the time.
MOLA recruited five experienced field staff internally to be deployed as Fieldwork Trainers to deliver the training, and they're currently going through training themselves in topics such as mental health awareness and learning disabilities awareness.
Amy Atkins (training@mola.org.uk) is always happy to speak more about the programme and welcomes different people's thoughts on it – there's some more information on the new Early Careers page and on the Trainee job advert 

Currently the starting salaries are £19,000 for the Trainee rising to £20,000 once they pass their 3-month assessment, and Graduates start on £20,000).