The grave was uncovered as the team excavated 18th and 19th-century buildings and gardens ahead of construction of a new 'West Quad' for St Cross College.
Removal of the garden soil exposed the grave, which unusually had not been placed in consecrated ground or other church land. Excavation of the grave revealed the skeleton of a carefully-placed individual, who appeared to have been wrapped in a shroud fastened by pins.
A coin in her mouth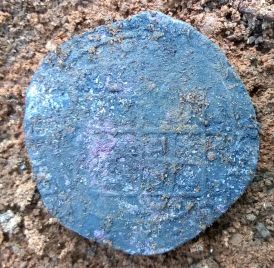 A Charles I silver shilling dated to 1640 or 1641 was found by the individual's head, possibly having been placed on her eye or mouth.
The discovery has been accompanied by much speculation as to why the woman had been buried in a garden during the 17th century. The care taken over the burial suggests that the woman had not been considered an outcast or had been buried in haste.
It is possible, however, that she had died of starvation or disease, which her family may have wished to hide, or that the burial was made during the siege of Oxford, when more formal burial may have been difficult.
The remains will be analysed further by OA's Heritage Burial Service team and a bone sample will be submitted for radiocarbon dating. It is hoped that the results of the analysis will shed more light on this mysterious burial.
To download a special 3D image of the grave. click this link:
http://downloads.thehumanjourney.net/stcross/St_Cross_skeleton_4096.pdf
To view and rotate the image, you must save it to your computer first THEN open it in a PDF reader