AOC Archaeologists have been working closely with the Whithorn Trust on an ambitious project during the summer of 2016; to reconstruct at full scale one of the spectacularly well-preserved roundhouses found at Black Loch of Myrton.
Using materials identical to those found on the 2500-year old settlement, the Whithorn Trust and architect Hazel Smith have reconstructed the layout and architecture to create a faithful replica of the Black Loch roundhouse. Because of the waterlogged conditions found at the excavation site, details such as the double-wattle wall, oak plank facade surrounding the entrance and the massive central hearth have all been well preserved, meaning that their precise arrangement could be replicated at full scale.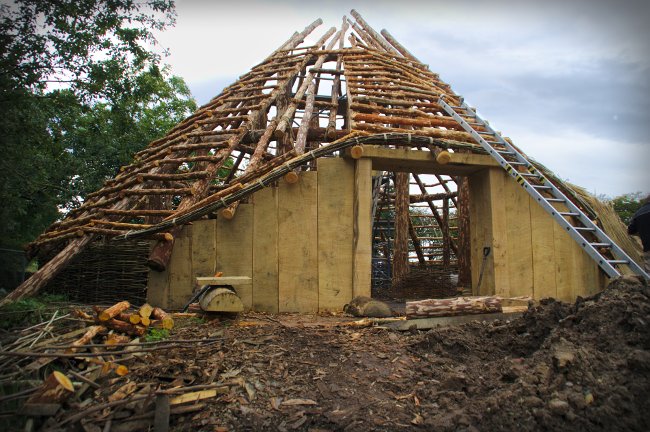 The reconstruction is designed as a resource for education and outreach, as a means of communicating the findings of the recent archaeological research on the Iron Age of South West Scotland, and as an opportunity for participation in 'living archaeology'.
The reconstruction work is accompanied by a series of workshops, experimental sessions, lectures and tours for schools, under the banner of the Whithorn Roundhouse: Iron Age Grand Design.
Learn more
You can follow progress of the project and find out how you could volunteer in the buiding work on the Whithorn Trust's Facebook Page.
Read more about AOC's work on Iron Age wetland settlements here.