Download the quiz and have a go.   Can you get 100% ?    Talk about it at teabreak! – It is good to see Headland looking at new ways to engage staff with active participation!
If you must know who won at Headland .   They are pleased to announce that it was Edinburgh based general works team member RICHARD TUFFIN who was the lucky winner of a bottle of wine, following a lucky dip of all qualifying entries.
The quizzes are part of our commitment to raising awareness of health and safety in the workplace in what we hope is a fun and engaging manner and if you fancy a go  we'll let you know how you get on. By posting the answers back here and putting a link from Facebook as well.      You have a week!
Or Click the Pic!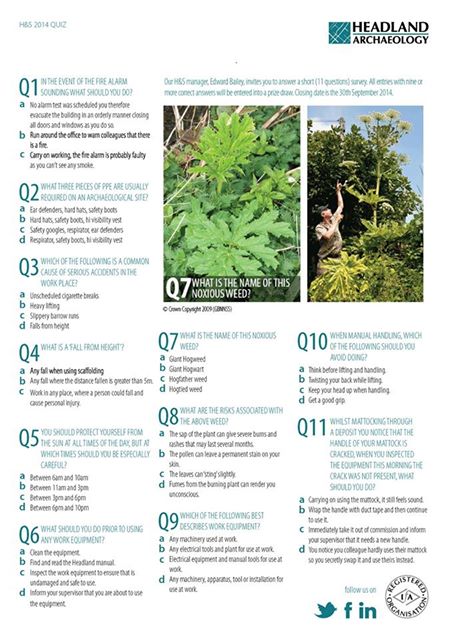 NO PEAKING NOW!!!
The correct answers are as follows:
Q1)         No alarm was scheduled you therefore evacuate the building in an orderly manner closing all doors and windows as you do so.
Q2)         Hard hats, safety boots, hi visibility vest
Q3)         Falls from height
This was a tricky one with many people not fully reading the question and incorrectly answering heavy lifting – the key word here is 'serious'.
Q4)         Work in any place, where a person could fall and cause personal injury
Q5)         Between 11am and 3pm
Q6)         Inspect the work equipment to ensure that it is undamaged and safe to use
Q7)         Giant Hogweed
Q8)         The sap of the plant can give severe burns and rashes that may last several months
Q9)         Any machinery, apparatus, tool or installation for use at work.
Q10)      Twisting your back while lifting
Q11)      Immediately take it out of commission and inform your supervisor that it needs a new handle.