In the summer of 2009 a team of archaeologists from Headland Archaeology, commissioned by City of Edinburgh Council, excavated the remains of the post-medieval graveyard associated with South Leith Parish Church in advance of the tram infrastructure construction at Constitution Street. The excavation yielded 302 complete or near complete burials of men, women and children dating as far back as the 14th century. Despite the proximity to a known graveyard, the density and preservation of the graves were unexpected. The Constitution Street site was identified as being in a particularly sensitive archaeological zone due to its proximity to the early medieval core of Leith and later 16th and 17th century town defences.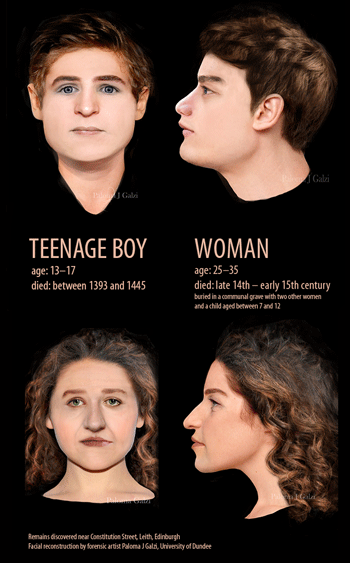 The graves were arranged in closely spaced rows. The majority were single, supine extended inhumations interred in wooden coffins or in shrouds. Also present were group burials in irregular pits including superimposed double burials, usually of a child and an adult. Most artefacts were iron coffin nails, with a few shroud pins. A copper buckle was found in one grave, along with textile remains of clothing worn by the deceased.
The Constitution Street findings are thought to be amongst the most significant medieval discoveries in Scottish history. They could provide the first archaeological evidence for the medieval hospital of St Anthony's, destroyed in the 16th century.
Now detailed analysis by the City of Edinburgh Council's Archaeology Service and Headland Archaeology, in partnership with the University of Aberdeen, has revealed the age, sex, build and pathology of the individuals.
Artists from the University of Dundee have also been able to provide a glimpse of the faces of Leithers past using hi-tech reconstruction techniques, revealing strikingly modern-looking results.
By using forensic modelling to determine the shape and depth of facial muscles and soft tissues, isotopic analysis to ascertain individuals' origins and state-of-the-art computer programming, researchers were able to build up lifelike facial representations for the 400 to 600-year-old remains.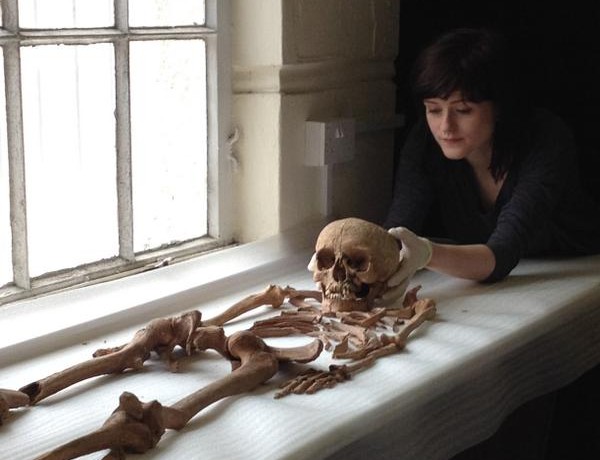 Richard Lewis, City of Edinburgh Council's Culture Convener, said: 'The unearthing of such important remains was a major discovery five years ago, but to be able to gain an even closer insight into Leith's medieval past is incredibly exciting.
Edinburgh has an undeniably rich and interesting history, but work like this means the whole city can truly appreciate our heritage.'