Mae'r BAJR yn hynnod falch o fedru cyhoeddi'r Pasbort Sgiliau newydd – fersiwn CYMRAEG-SAESNEG DWYIEITHOG. Rydym yn ddiolchgar iawn fod y fersiwn wedi'i gyfeithu gan David Connolly oddi wrth y fersiwn gwreiddiol gan CADW, sydd hefyd wedi darparu grant I alluogi 600 o gopiau i'w argraffu. Y gobaith yw y gall hyn fod yn hunangynhaliol yn y dyfodol.
Mae'r ddogfen yn hollol ddwyieithog ac wedi'i anelu at siaradwyr Cymraeg, dysgwyr a rhai sy'n astudio a gweithio yng Nghymru. Mae'n cydnabod pa mor bwysig yw'r iaith Gymraeg I dreftadaeth Cymreig, a'r gobaith yw y bydd y cyhoeddiad hwn a'r testun allweddol gwaith maes Cymraeg yn cyfrannu yn allweddol I gorff adnoddau y iaith Gymraeg.
http://www.archaeologyskills.co.uk/product/welsh-language-archaeology-skills-passport/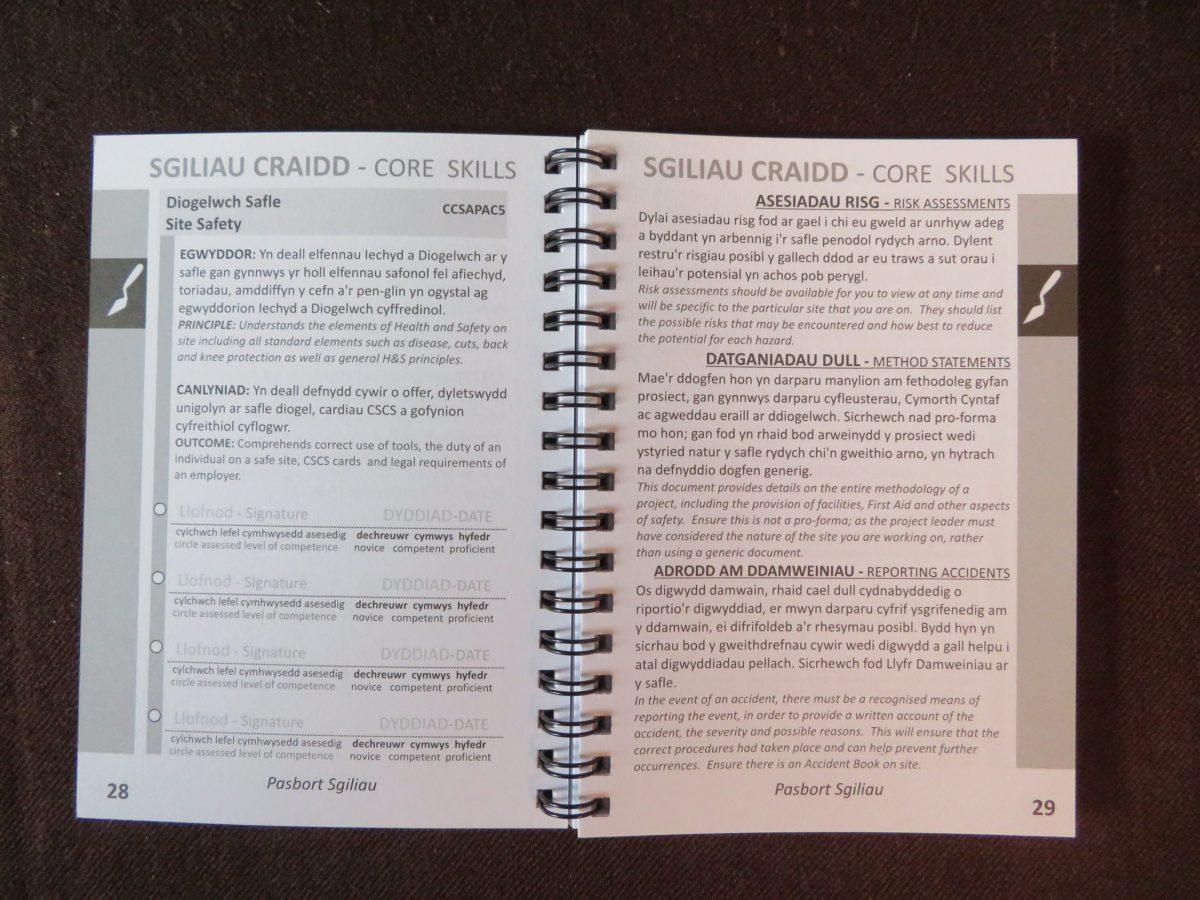 BAJR is delighted to announce the publication of our newest skills Passport version – a bilingual Welsh-English edition. This edition has been kindly translated from David Connolly's original version by Cadw, who have also generously provided a grant to enable the printing of an initial run of 600 copies. It is hoped that take up of these guides will be sufficient to enable their production to become self-sustaining for the future.
The document is entirely bilingual and is aimed at Welsh speakers, learners and those working and studying in Wales. It recognises the importance of the language to Welsh heritage and it is hoped that the publication of this key fieldwork text in Welsh will contribute to the body of Welsh language resources.
Thank you  Nia Wyn Jones for the translation above   and to Cat Rees of CR Archaeology – and Adele Thackray-Durkin for making it all happen.
Buy your copy here:
http://www.archaeologyskills.co.uk/product/welsh-language-archaeology-skills-passport/