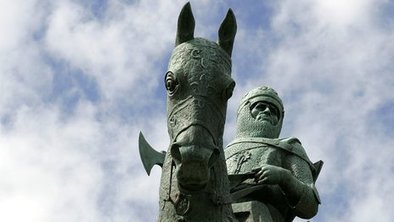 ---
A copy of an unknown Robert the Bruce letter from the build-up to the Battle of Bannockburn has been discovered.
The letter, sent in 1310, asks English King Edward II to stop persecuting the Scots.
It shows Robert asserting his God-given authority as king of the Scots and addressing Edward as his equal.
The script, thought to have been transcribed from the original, was discovered by chance by a professor of Scottish history at Glasgow University.
Bruce's Scottish troops defeated the English army at the Battle of Bannockburn in 1314.
The new letter was found in a document which dates from about the turn of the 16th Century and has presented historians with fresh information about a pivotal time in the wars of Scottish independence.
The missive reveals how Robert made an appeal for peace when faced with an English army marching into the heart of Scotland but on the understanding that Edward would recognise Scottish independence.
King Edward was growing increasingly unpopular with the nobles in his own court, according to historians, while Robert was slowly reclaiming power north of the border by winning the hearts and minds of the Scottish people……..
Read more about the project here: http://www.battleofbannockburn.com/Home/