News about archaeology and heritage in the UK
Week ending 28th November 2021
---
Meet the new Placements at ASE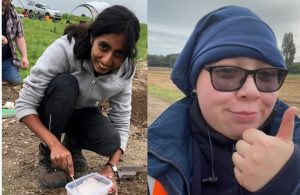 Archaeology SouthEast
new
BA Archaeology with Placement Year 
students from the Institute of Archaeology are now well settled into their time with us at Archaeology South-East. Sakshi Surana and Victoria Igary will spend the next year working alongside our archaeologists in the field and in post-excavation, getting valuable experience in all aspects of commercial archaeology.
Meet them here:
IoA Placement at ASE 2021-22: Welcome Sakshi and Victoria! | Archaeology South-East – UCL – University College London
---
New book on Roman society in the south west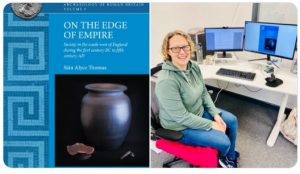 Archaeology Wales are proud of their colleague Siân Thomas, who just returned final proofs for her new book "On the Edge of Empire" based on her PhD research. Will be released as part of the
BAR Publishing
Archaeology of Roman Britain
series very soon! We'll update as soon as it becomes available.
---
The Book of Deer, is returning to Aberdeen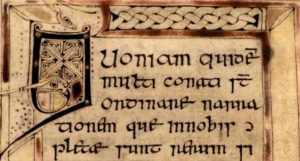 The Book of Deer, possibly Scotland's oldest surviving manuscript! Thanks to the
Book of Deer Project
, the manuscript will return to the north-east of Scotland for the first time in more than 1000 years. The book was written at the Monastery of Deer, believed to be near the ruins of Deer Abbey in Aberdeenshire.
It will be on loan from Cambridge University Library, where it has been since 1715, and will be exhibited at Aberdeen Art Gallery in summer 2022, during the Year of Scotland's Stories.
---
Medieval Dollar Glen: farmland or hunting park?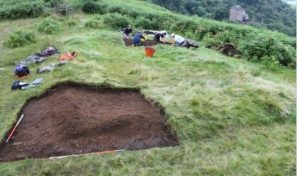 Dollar Glen and Castle Campbell in Clackmannanshire was the Lowland stronghold of the Campbell earls of Argyll from the 15th to the 17th century. Archaeological investigation has uncovered evidence that shows how the landscape of the glen was as important as the castle to the life and image of the Campbells.
National Trust for Scotland Archaeologists who led investigations at Dollar Glen uncovered two rectangular turf-walled structures on a narrow promontory overlooking Castle Campbell, a circular earthen mound and two turf banks to the west of the upper tree line, and a rectangular stone building adjacent to a trackway running around the southern and western contour of Bank Hill.
Excavation of the turf-walled buildings found evidence for wooden posts which would have supported the timber roof. Within the collapsed turf we also found pottery called white gritty ware, and fragments of green glazed jugs and medieval redware pot shards. These date from the 13th to 15th century, suggesting these buildings were in use during the early years of the Campbells at Dollar Glen.
Read more: Medieval Dollar Glen: farmland or… | National Trust for Scotland (nts.org.uk)
---
Keeping the light on.  Carenza Lewis collaboration in Europe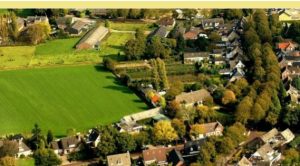 The project Community Archaeological in Rural Environments – Meeting Social Challenges (CARE MSoC) is a joint project initiative (JPI) funded by four national research councils through the European Commission to build capacity in the heritage sector to help rural communities in a changing world. Czech Republic, Netherlands, Poland and the UK
The CARE project spans four countries, twelve rural communities and hundreds of members of the public.
Community Archaeology in Rural Environments – Public participation in archaeological discovery supporting rural communities across Europe (lincoln.ac.uk)
---
Structured Light Scan of Phil Harding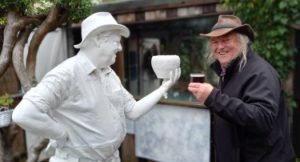 Wessex Archaeology's Studio Team scanned Phil Harding using an Artec Eva SLS system. The scan is part of the Salisbury Hidden Figures project that will see life-size 3D prints displayed within the city. Phil was assembled from four scanned parts: his head, body, left arm and pot. These were then reassembled and cleaned up.
You can find out more about the project here, https://safersalisbury.org.uk/hidden-figures/
Play with your own 3D Phil here:
Structured Light Scan of Phil Harding – 3D model by Wessex Archaeology (@wessexarchaeology) [019ac07] (sketchfab.com)
---
Beautiful Iceni unit of 'Ecen' conserved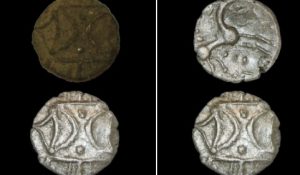 Recent work by Cotswold Archaeology on a Fen edge site in Suffolk produced evidence for Late Iron Age activity; amongst the finds of this period recovered is this silver Iceni unit of 'Ecen', collected from the top fill of a ditch. The coin can be dated to between 10 and 45 AD. Prior to post-excavation analysis it was cleaned by Pieta Greaves at Drakon Heritage, revealing beautiful detail on the coin: the before-and-after photographs illustrate the transformation that the coin underwent!
Read on and view the transformation
Toss a coin to your protector – Cotswold Archaeology
---
Preparation of Prehistoric & Medieval Artefacts for the New Museum in Perth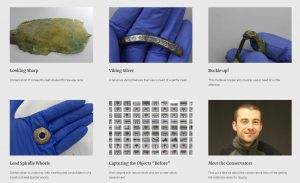 AOC conservators are working away on a fab project with Culture Perth and Kinross in Scotland, preparing almost 600 objects for display in a new museum in Perth. Regular progress will take place over the coming months, but in the meantime, head over to the blog for a gander at what they are up to.
Between 2021 and 2023, AOC's conservators will be working on the prehistoric and medieval archaeological artefacts destined for the new museum, preparing almost 600 objects for display. Some of the artefacts will require lots of love to get them museum-ready, while others just need a clean to ensure they are in tip-top condition before going to their new home.
Follow the blog here.  CPK Blog — AOC Archaeology Group
---
FAME Utility Guide (UK) – FAME Guidance for Archaeological Practitioners (2)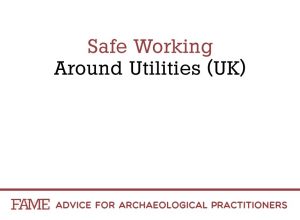 The FAME Health and Safety group has been working on creating guidance for FAME members on a range of issues. The FAME Health and Safety Technical Papers are produced by the FAME Health and Safety Working Group to provide high-level guidance to its members to foster safe systems of work for development-led archaeological practice. The principal author of this second paper was Ian Smart (Wessex Archaeology) with input from other members of the FAME Health and Safety Working Group.
Downloaded it here: FAME Utility Guide (UK) – FAME Guidance for Archaeological Practitioners
---
'Creatively Minded & Heritage' report published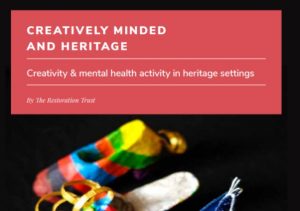 'Creatively Minded & Heritage', looking at how to support mental health using archaeology and heritage is a new report commissioned by the Baring Foundation and produced by the Restoration Trust..  How can heritage and creativity support mental health? Our new report showcases work from 18 heritage and arts organisations using our wealth of heritage assets, and the creativity of artists, to improve mental health and community connections.
Through 18 case studies, the report showcases excellent practice across multiple art forms, heritage assets, inclusive, people-centred approaches, organisational structures and health settings to demonstrate how all heritage can be used creatively to improve people's mental health and community connections nationwide.
Read the report HERE (free download) : Creatively Minded and Heritage – The Baring Foundation
---
Big news of the week – the  Rutland Roman Villa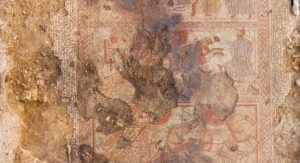 The Covid 19 Lockdown in 2020 forced many people to stay close to home for their recreational activities and also to find new interests to pursue.  For Jim Irvine a walk with his family on his father's farmland was the start of a journey that led to the astounding discovery of an extensive Roman villa complex and one of the most significant mosaics ever found in Britain. John Thomas, Deputy Director of ULAS, reflects on the discovery…
A remarkable tale of cooperation between Landowner, Council, Contractors and University.
Read the full amazing story here – with videos and amazing images
Encounters with Achilles: The Discovery of the Rutland Roman Villa – ULAS News
---
YAC After-Schools Club launched
YAC After-School will be an exciting new way for school-age children from year three right up until the end of secondary school to learn about archaeology and why it matters. Like the existing YAC branches, YAC After-School will approach archaeology through playful, hands-on activities, from experimental archaeology to fun craft projects, that explore all eras of human history, from the prehistoric period to the modern day.
YAC After-School Clubs will receive the same support as  affiliate branches, including lots of resources to help support teachers deliver engaging club sessions with hundreds of activities and session plans, geared toward informal learning as well as Dig School, specifically created for schools during lockdown as an online programme of lively extra-curricular workshops themed around archaeology. After-school clubs will also have access to YAC branding, training and a whole host of member benefits for their pupils.
They welcome applications from teachers, who can find more information here. and also encourage parents and students to speak to their school if they would be interested in attending or setting up a branch.
It is hoped that by creating an after-schools network we will be able to support teachers to introduce the subject to more young people across the UK. By doing so, we will also be able to reach individuals who cannot attend weekend clubs for all sorts of reasons (lack of transport, distance to clubs, etc.) and those who might not usually engage with archaeology and heritage.
---