Wessex Archaeology had a display which was perused by more than 200 attendees during the breaks in the presentations that really showed the breadth and diversity of shipwreck investigations taking place in the UK and by British divers.
The Wessex Archaeology display showed the range of work that the
Coastal & Marine
team have been completing of late. It included a short video of Wessex Archaeology's staff working with local divers o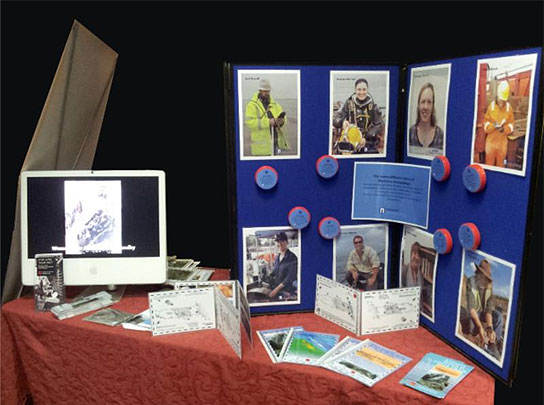 n sites such as Gun Rocks wreck in Northumberland, and numerous U-boats in the Thames Estuary and English Channel. Many conference attendees were impressed with the advanced 3D imagery created by photogrammetry work undertaken on cannon at Drumbeg and stone anchors at Siccar Rock by our Edinburgh office.
Conference attendees were particularly attracted to the
Iona II Dive Trail
materials, funded by
English Heritage
, wanting to know how they could have this interactive experience for themselves. They were impressed by the range of information that was clearly displayed in the underwater guides and the more detailed information booklets for reading during the boat trip out to site. The flyers giving details of the dive trail proved very popular!
Many designated wreck licensees were in attendance at the conference and were interested in the Archaeological Diving Unit (ADU) Archive that Wessex Archaeology has just catalogued for
English Heritage
. This collection contains over 1000 items created and accumulated by the ADU while investigating English wrecks between 1986 and 2002. Licensees can now access wreck investigation videos, correspondence, 35mm slides, log books, site plans, reports, documentaries and raw geophysical data. This resource is now available to search online at
English Heritage Archives
and to view at Archive Services in Swindon.
By Peta Knott – Archaeologist, Coastal & Marine